Six month course in Applying Shamanism – 2017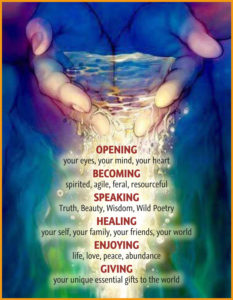 This program is designed to condense years of shamanic training and apprenticeship into a short course that will become your foundation for deeper extended work in the reams of your giftedness:
Opening – your eyes, your mind, your heart
Becoming – spirited, agile, feral, resourceful
Speaking – Truth, Beauty, Wisdom, Wild Poetry
Healing – your self, your family, your friends, your world
Enjoying – life, love, peace, abundance
Giving – your unique essential gifts to the world
With monthly group adventures, from the Winter Solstice December 21st, 2016 thru the Summer Solstice and Full Moon June 20th 2017
Including 6 monthly on-line Skype or video modules of practices & processes, including a monthly check in and tune up with Francis Rico.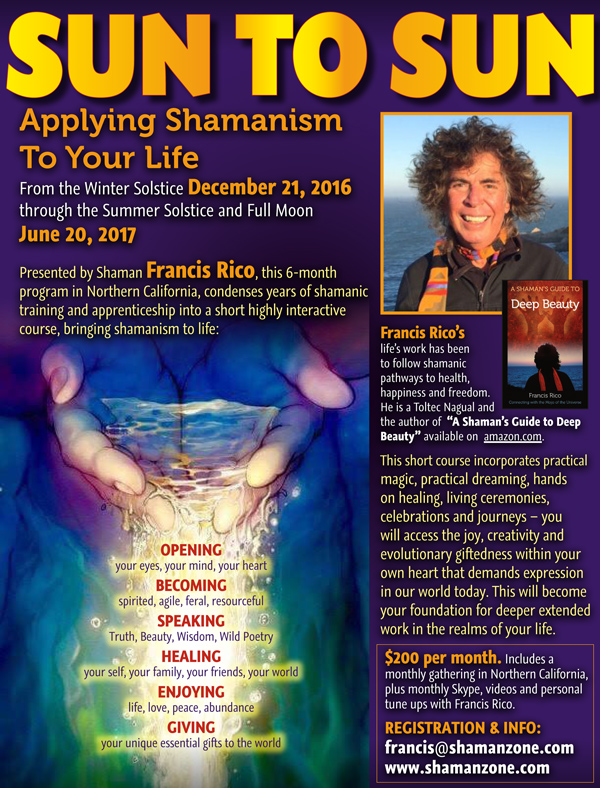 Monthly Schedule: (dates will be set in advance of each month)
– One 6 hour (or more) group gathering each month.
– Study and practice materials assigned for each period.
– Interactive Skype group meeting or teaching video.
– One private 1 hour personal consultation
Participation includes:
– Discounts on journeys.
– Discount on private shamanic sessions.
Applying Shamanism 2017
– Practical dreaming
– Practical magic
– Accessing multi-dimensionality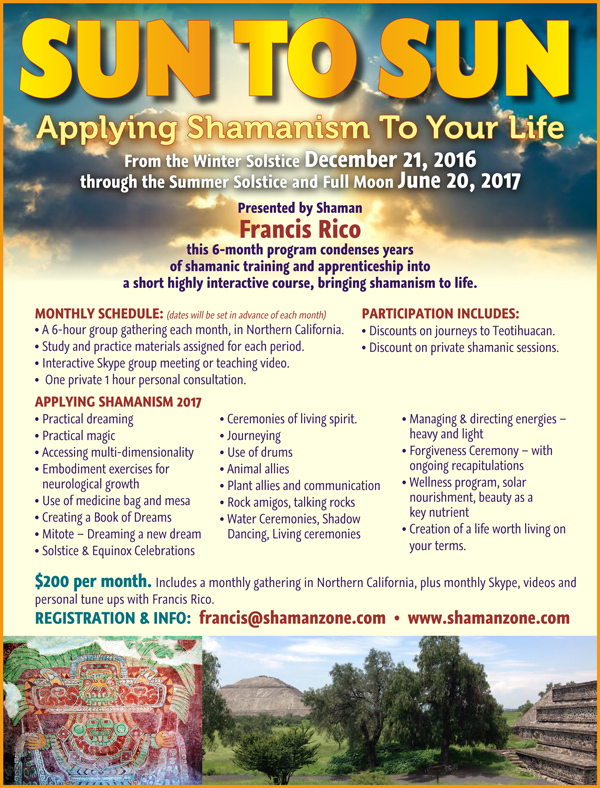 – Embodiment exercises for neurological growth
– Use of medicine bag and mesa
– Creating a Book of Dreams
– Mitote – Dreaming a new dream
– Solstice & Equinox Celebrations
– Ceremonies of living spirit.
– Journeying
– Use of drums
– Animal allies
– Plant allies and communication
– Rock amigos, talking rocks
– Water Ceremonies, Shadow Dancing, Living ceremonies
– Managing and directing energies – heavy and light
– Forgiveness Ceremony – with ongoing recapitulations
– Wellness program, solar nourishment, beauty as a key nutrient
– Creation of a life worth living on your terms.
For info on registering for this 6 month program contact francis@shamanzone.com.
Fee for Program participation is $200.00 per month + $6 PayPal fee. BUY NOW