A Shamanic Journey to Teotihuacan – Nov. 15 – Nov. 21, 2019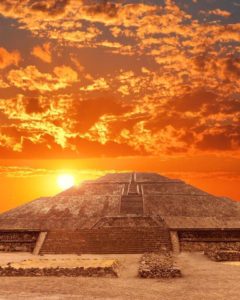 Our Shamanic Journey to Teotihuacan is a giant step out of the dilemmas that we continue to experience when we do the same old things we've always done.
We adventure into the Great Mystery – a journey into Creation's innate intelligence. And, here we find an opportunity to reawaken the agile feral capacities that are at the center of your being – the "gift" of you!
Hearing a call from something within that is so deep, so profound, and so compelling is intriguing… but it also might feel totally unreasonable – and that is exactly the point!
You are hearing a call from life itself to come to this ancient University of Spirit – a mysterious place that is more vibrantly alive now than ever!
The essence of our journey is the accessing of your profound resourcefulness, creative abilities, and unique giftedness – this is about you becoming an Artist of Spirit in your life.
And, this is what "shamanism" is all about: it's a movement out of the chronic contraction, stress, and limitation that we call "normal reality" – and into an expansive high-and-deep vibrational creative state where magic and miracles are normal.
There's a special link for you, below – take a moment to explore, and let me tell you about Teotihuacan – about our home there – the Dreaming House – and about our journey and all of the details that we take care of so that your experience is safe and worry free.
But first, let me give you the basic costs and choices involved: this journey is not expensive – the cost issue is more about your time: can you take a week to totally re-vision, upgrade and reformat your life?
My mission is to help you get to this magical place where your awakening ignites everyone and everything in your life. Now, that's shamanism!
Our journey cost is $1195 – and that includes delicious meals, entry to the pyramids, our shuttle to and from the airport, and a day in Mexico City visiting the Basilica of Guadalupe and the world renowned Anthropological Museum.
Our accommodations are double occupancy in the beautiful Dreaming House – our private estate, with our own kitchen and staff. If you would prefer a single room, it's available for an additional $240.
Cost does not include your airfare, wait staff tips, alcoholic beverages, or extra activities like a herbal sweat lodge or private healing sessions with one of our indigenous healers.
Please contact me by email if you are interested in joining in this Shamanic Journey. We can discuss if this the right time and journey for you – and we can determine what sort of preparation would be most beneficial for having this opportunity to directly experience the ignition of feral agility that Teotihuacan ignites. francis@shamanzone.com
Here's a link to a story of the adventure of the journey:
Francis Rico shares the adventure of a Shamanic Journey to Teotihuacan – www.shamanzone.com/teo/