July 22 thru 27, 2020 – A Family Journey to Teotihuacan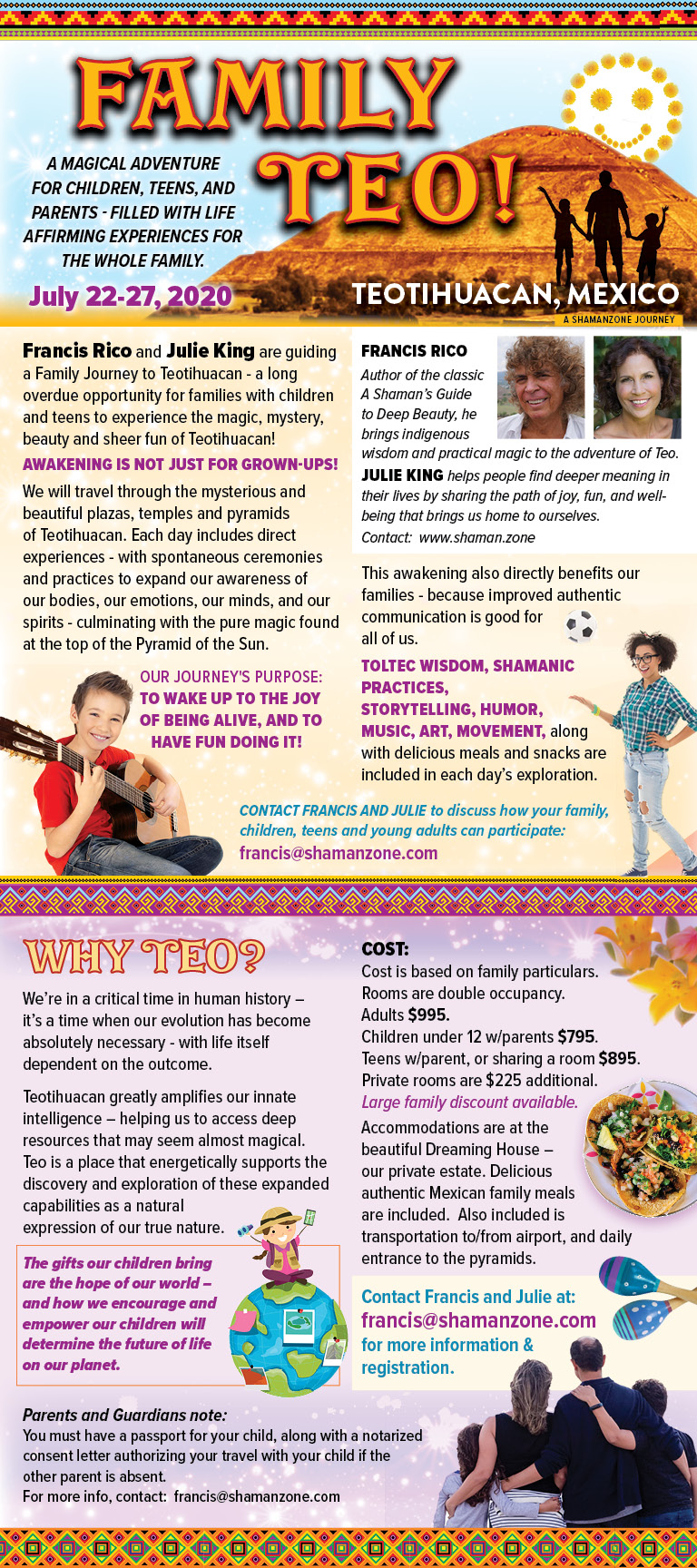 This magical adventure for children, teens, and parents will be filled with life affirming experiences for the whole family.
Francis Rico and Julie King are guiding a Family Journey to Teotihuacan – a long overdue opportunity for families with children and teens to experience the magic, mystery, beauty and sheer fun of Teotihuacan!
Awakening is not just for grown-ups!
We will travel through the mysterious and beautiful plazas, temples and pyramids of Teotihuacan.  Each day includes direct experiences – with spontaneous ceremonies and practices to expand our awareness of our bodies, our emotions, our minds, and our spirits – culminating with the pure magic found at the top of the Pyramid of the Sun.
Our journey's purpose: to wake up to the joy of being alive, and to have fun doing it!
This awakening also directly benefits our families – because improved authentic communication is good for all of us.
Toltec wisdom, shamanic practices, storytelling, humor, music, art, movement, along with delicious meals and snacks are included in each day's exploration.
Contact Francis and Julie to discuss how your family, children, teens and young adults can participate: francis@shamanzone.com
See below for costs, legalities, and additional details.
A magical adventure for children, teens, and parents – filled with life affirming experiences for the whole family.
WHY TEO?
We're in a critical time in human history – it's a time when our evolution has become absolutely necessary – with life itself dependent on the outcome.
Teotihuacan greatly amplifies our innate intelligence – helping us to access deep resources that may seem almost magical.  Teo is a place that energetically supports the discovery and exploration of these expanded capabilities as a natural expression of our true nature.
The gifts our children bring are the hope of our world – and how we encourage and empower our children will determine the future of life on our planet.
Parents and Guardians note:
You must have a passport for your child, along with a notarized consent letter authorizing your travel with your child if the other parent is absent. Contact francis@shamanzone.com for more info.
COST:
Cost is based on family particulars.  Rooms are double occupancy.
– Adults $995
– Children under 12 w/parents $795.
– Teens $895 w/parent, or sharing a room.
– Private rooms are $225 additional.
– Large family discount available.
Accommodations are at the beautiful Dreaming House – our private estate. Delicious authentic Mexican family meals are included.  Also included is transportation to/from airport, and daily entrance to the pyramids.
For more information/registration contact Francis and Julie at francis@shamanzone.com