Next up: Join Francis Sunday August 8th at 11:00am PDT for a community gathering to share our community voices – our concerns, our "interesting occurrences" – our experiences of magic and miracles… join us and share in our tribe!
Use this link 5 minutes in advance of our meeting:
https://us02web.zoom.us/j/5760580392?pwd=QlhYMFhUbTBYblZDSXRnSWdaN1VEdz09
Meeting ID: 576 058 0392 – Pass code: 3380199
---
New Assignment:
Assignments: current assignment and activities
Resources: books • videos • images • more
---
Applying Shamanism Schedule and Videos: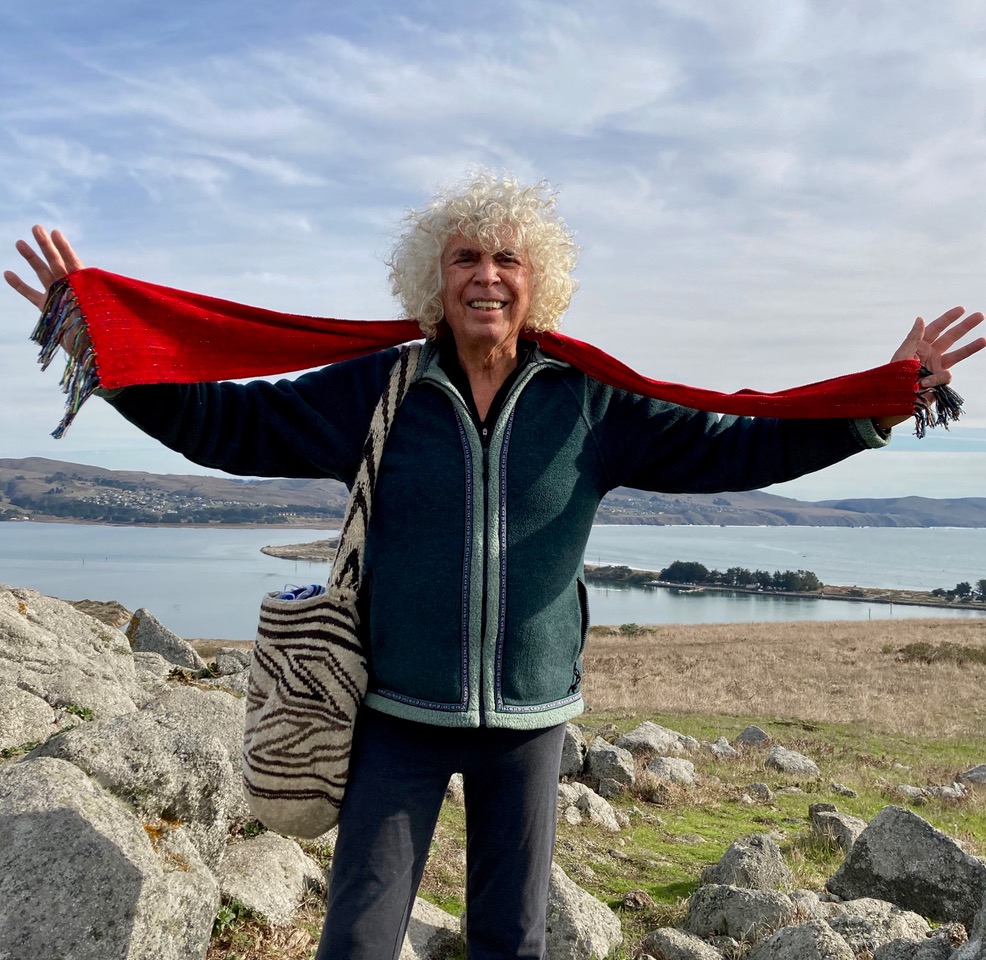 • Introduction to Applying Shamanism – Monday, Jan. 11, 2021: Here are the fundamental basics to the Applying Shamanism course. This is for you if you are considering participating – the first hour is about the program, about shamanism, including the issue of cultural appropriation, and the fact that Applying Shamanism goes to Source – older than all of the indigenous tribal wisdom traditions – for the essence of support for evolutionary flowering in this time of over-lapping emergencies facing our species and our world. Take heart! there is a Path of Mutual Benefit – and there is a way for your gifts to emerge! This is for you!
Video: https://youtu.be/-GHr5wt6P3A
---
• Sunday, Jan. 17: Applying Shamanism – Orientation and first assignment – In our first official gathering, we look at what shamanism IS, and at what it ISN'T. This orientation sets the stage for the flowering spiral that is the Great Mystery of YOU! We look into exploring your "alignment" to the reality you have created (and co-created) and into the "assembly" – into how you are energetically organized. We also cover the basics of active practices being the foundation of our work together. Plus a guest speaker, Lucy the Quantum Physics specialist offers her suggestion on cracking the cosmic egg of our locked-down objectification of reality, including ourselves! This is a "must watch" enjoyable visit to the Mystery that you will be exploring.
Video: https://youtu.be/Q2MfRHmxW1E
---
• Monday, February 1st 2021- Applying Shamanism – Alignment and Assembly – Diving deep into the value of getting started – and doing the "work" of pedaling – while simultaneously steering towards mutual benefit. If you need any encouragement to get started, this will inspire you! Plus there is a blessing, and a clear vision of yourself as an Eagle ready to fly! Inspiring and worth your time!
Video: https://www.youtube.com/watch?v=T8XQceAYjM0
---
• Monday, February 8th – into the Mystery of your History – Two practices plus – a personal history – both in survey and spiral form – with a practice in matrilineal and patrilineal lineages, and a look at how you are assembled! this is deep, necessary, and the foundational work of creating a new and improved. beneficial reality for yourself ad your family, friends, community and our world!

Video: https://www.youtube.com/watch?v=MHJfgmFlhQE

---
• Sunday, Feb. 21 Applying Shamanism – Recovering energy – Along with a quick review of the work you've been doing, we look at recovering energy for regeneration, for healing, for growth and for accessing your innate multi-dimensionality. We investigate "recapitulation" as a simple way to begin letting go of energetic splints. And we explore – from Valentina the whale rescued in the Sea of Cortez – to Jen Freeman sharing a QiGong practice course – and included is a living forgiveness ceremony that begins a process of personal freedom like no other practice can.
Video: https://www.youtube.com/watch?v=3oyI2nnCIDA
---
• Monday, February 22 – Your QuGong practice with Jen Freeman – 25 minutes – Jen is a remarkable and vibrant guide and coach. You can join her in this practice every day, or every other day – or at least 3 times a week – this will support the flow of your chi – your energy – in ways that will begin to regenerate and heal you in ways that seem almost magical – but are based on the ancient premise that where there is flow there is health. Feel free to check out her web site, and to contact her if you have questions or want to explore your practice in depth. www.freemanconsultingllc.com – 808.419.0191

Video: https://youtu.be/JY39x5Db6XA
---
• Thursday March 4th, 2021 Applying Shamanism -Recapitulation, Self Care, and Drumming – Join us for a review of the importance of our work – and how to access it in the spiral dance of our lives – along with re-visiting recapitulation, Forgiveness, and Drumming for a vision! We check in with www.ExperienceTeo.com as well as www.shamanzone.com/wisdom
Video: https://www.youtube.com/watch?v=yBr1AtNRzC4
---
• Thursday March 18, Preparing for the Equinox – Equinox prep for March 20th – with a review of Experience Teotihuacan , and a deep dive into direct experience – plus how to approach doing Living Ceremony for the Equinox.
Video: https://www.youtube.com/watch?v=SDfb1O0dpog
---
• Sunday March 21 – enjoying the gift of the Equinox – your intentions get a ride! – We revisit the experiences we had during the Equinox. Francis takes a tour of the galaxy, and we explore shaping your intentions in the 2nd attention – using the tools of alignment, assembly and recapitulation. Plus we include the Medicine Bag and the Mesa practices as opportunities to both care for yourself and others AND to play while doing it!
Video: https://www.youtube.com/watch?v=eBHy3zqqA-w
---
• Thursday April 1st – 80 Days of Radical Self-Care and Recovery of Vibrancy – Here is the foundation for the skills of shamanism – for agile creative resourcefulness in the realm of magic and miracles – for the actual tools and resources of Applying Shamanism. With this 80 days to the Solstice program of enhanced self care and recovery of vibrant energy from entanglement in the trance, you give yourself the energetic capacity to flower as the gift that you are.
Video: https://www.youtube.com/watch?v=Ikv5GSlVSLc
---
• Recorded live Thursday April 8 – Playing with the Mesa with Barbara Novak – Barbara takes us on a step by step illustrated journey into the foundation and framework of the Mesa as a tool for transformative shifting of what seems to be our "fixed" reality. PLAY turns out to be a more powerful tool than "work" – in the sense that more air, space and flow occurs when we are relaxed and playing with the flows of our situations. A must view video – Barbara is a compelling presence – and her invitation to play is irresistible!
Video: https://www.youtube.com/watch?v=9kHrlBX2KiU
---
• Sunday April 18 – Moving into the Spiral – managing both our assets and chaos & catastrophe! – In this meeting, we access the Source Wisdom of Teotihuacan to support what we would now call "chaos and catastrophe management" and "asset management" – including supporting our neurological growth in connection with our light bodies – in short, enjoying life while cultivating the emergence of our innate deep intelligence and giftedness. A deep dive into the ancient wisdom teachings on the Nagual and Tonal is central to this meeting – as well as a message from Grandfather Joseph Rael, and a vibrational toning ceremony.
Video: https://www.youtube.com/watch?v=N79vikaFOTs
---
• Monday May 3, 4:00pm PDT – To communicate with creatures, plants, minerals, rocks and crystals, and Light Beings we FIRST have to be able to communicate with ourselves! Using toning and directed biophotonic light based energy, we can learn to activate our center of imaginal communication – our "broadcast and reception" center – the "third eye" – the Pineal gland. We tour the Pineal gland material, practice the toning and biophotonic holds, and then, go for it! And open to the impressions and messages that surround us – meeting the creatures that have prayed for our awakening – and the plants that offer their beauty and medicines to support our evolution. The "is-ness" of the mineral world is it's own beauty and intelligence – and Light Beings have been supporting our work all along – but there are more Angels around us than that! This video is longer than usual – but well worth your time and involvement!
Video: https://www.youtube.com/watch?v=ZhTdoSQOA5A
---
• Thursday May 20 – What are you becoming? – We are entering into communication with the wild gift of ourselves – entering into Creation's wild heart – emerging as the gifts that we are – and this video takes us from the old definitions and questions into the new world emerging – where we are becoming Naguals – becoming feral – becoming ecoically connected beings with abundant resources and opportunities to love and be loved. here are the suggestions and practices for diving deep into connection with your allies – your creatures, your plants, your rock people, your light based beings… plus a chi-message from Jen Freeman and a helpful suggestion from White Star.
Video: https://www.youtube.com/watch?v=PFt1DSSvDKU
---
• May 23, 2021 Applying Shamanism – Living Ceremony and the Vast Self – This is essential viewing for our next three weeks – coming up to the June Solstice. We cover Ultimate Truth, paradox, Lucid Dreaming, Lucid Living – Living Ceremony – along with three Living Ceremonies for you to do in the coming weeks. and finally – a Direct experience of the Vast Self. Applying shamanism is getting very deep and rich at this point – with multiple overlapping practices and energetic flows contributing to an experience of ourselves as feral, agile, creative, responsive and resourceful – advocates of life, starting with our own. This IS shamanism applied to our lives.
Video: https://www.youtube.com/watch?v=tbE96jW0wgc
---
• Thursday June 17th – Preparing for the Soltice – The first hour is a must view experience to prepare for Living Ceremony for the Solstice on Sunday June 20th at *:31pm PDT. It includes a 5 minute ocean side expansive experience – letting the gift of Creation express itself to you. This video starts with an Orientation – this Solstice is a Galactic connection/immersion event! And we continue with a state of the WORLD REPORT – followed by Our Best Strategy – and we dive deep into Preparation for direct experience of what the incoming Solstice Gift is bringing you – that's the first hour – worth your time. After that we quickly review the foundations of "Living Ceremony" – do check this out.  But after that, only if you're interested –  we move into some conversation on what we see through OPEN gates of perception – a community contribution of insight and wisdom.
Video: https://www.youtube.com/watch?v=ARpNNqAmebw
---
• Applying Shamanism – Solstice Living Ceremony – June 20, 2021 – This gathering was brought together to enjoy the support of our wisdom traditions for our collective and individual Living Ceremony for the Solstice of June 20, 2021 – the first of our Galactic Solstices – where we face into the open pathway to the radiant heart of our Galaxy. This is it – this is the time to fully embrace the gift of YOU and to emerge agile, feral, creative, resourceful and responsive in the here and now. To read the Solstice Blessing message from Francis, go to: https://shamanzone.com/solstice-blessing-june-20th/
Video: https://www.youtube.com/watch?v=GX0hbpQTCnc
---
• July 8, Applying Shamanism – Communication, Connection, Flow, and linking with Synchronicity. – This video explores 4 areas of shamanic competency – creature, plant and rock communication, connection with all of creation, shape shifting and practical magic. This video is so simple, but it will change your world. With magic and miracles at the conclusion. Who knew that PLAY was the key??
Video: https://www.youtube.com/watch?v=wIAKmb88Q6o
---
• Applying Shamanism – Sunday July 18, 2021 – the future, the past, and right now! – This special gathering – a beach party, a graduation ceremony – in Zoomlandia became a sweet overview of the Applying Shamanism program,with a hint of things to come – and exploration of our community's experiences and a Living Ceremony into SOURCE – that supports us reaching into Source – and Source reaching into us! This overview will give you clarity about where to dive back in, and the Source Ceremony is worth the entire rest of the video – enjoy!!!
Video: https://www.youtube.com/watch?v=gBIUXifCB54
---
• Sunday August 8th at 11:00am PDT – This special gathering – a beach party, a graduation ceremony – in Zoomlandia became a sweet overview of the Applying Shamanism program,with a hint of things to come.

---
Donation Information:
Paypal: francis@shamanzone.com or Venmo: @FrancisRico
Or mail: Francis Rico, 970 Phillips Ave, Petaluma, CA. 94952
---
---
Four Month Shamanic Intensive in Practical Magic
Our Practical Magic program has been profound and life changing!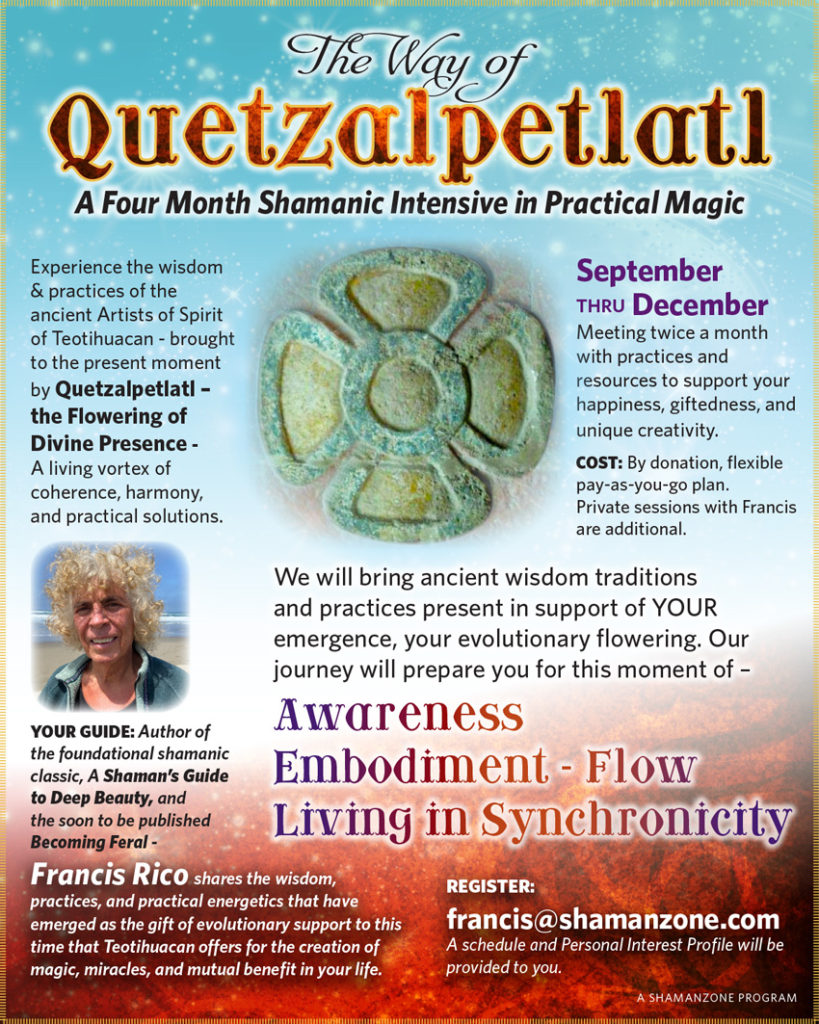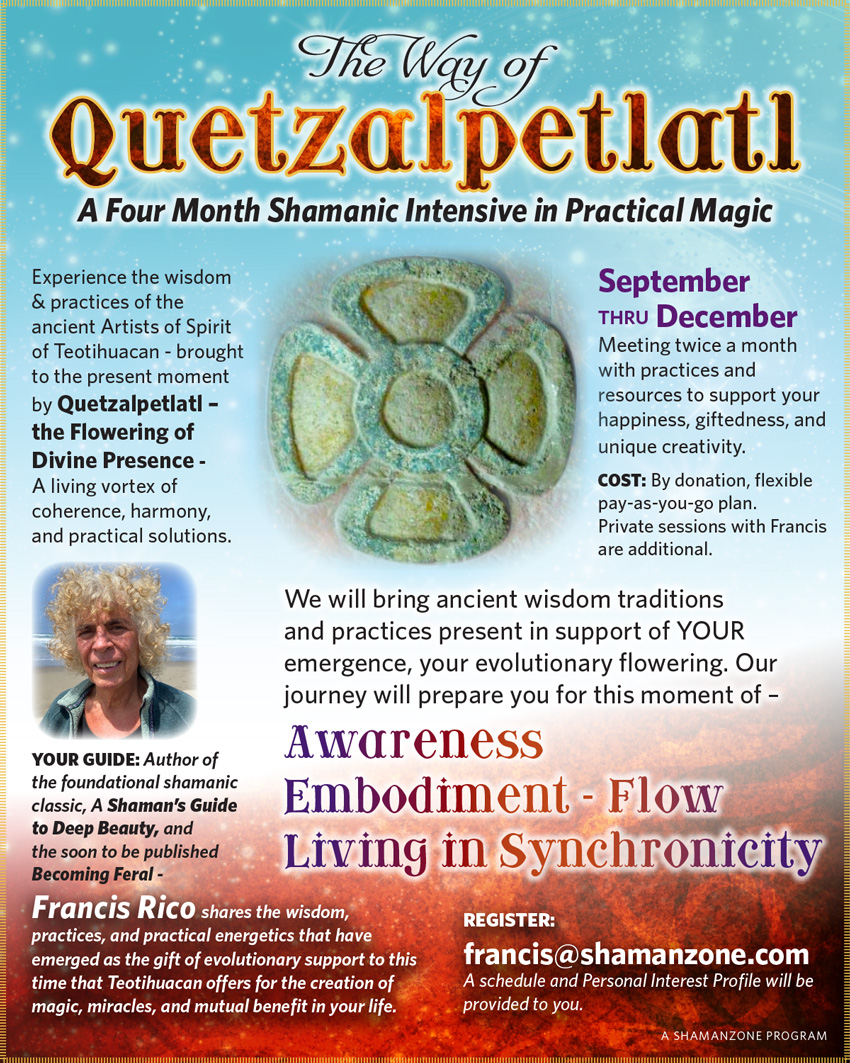 This 4-month shamanic intensive – a direct extension of the wisdom and practices alive in Teotihuacan – has brought the Way of Quetzalpetlatl present in support of our emergence, with a focus on evolutionary flowering – and of course, bringing magic into your life.
I understand how complicated our lives and schedules are, so all of my programs are designed to work for everyone – with materials and recordings of each meeting available on a private web page – and with plenty of meetings for follow-up and for working with assignments and practices.
It's late in the going for new participants to jump in to Practical Magic at this point, but all of the information, materials, practices and life changing results offered will be included in a greatly expanded program that begins with the December 2020 Solstice, and energetically concludes with the June 2021 Solstice – including a summarization and follow-up month in July of 2021.
With this upcoming Applying Shamanism program, you are invited to step into the realm of the magical and miraculous – and join a community of people who support the emergence of the unique gifts we each have to offer our world.
Applying Shamanism incorporates practical magic, healing practices, shamanic tools and resources, living ceremonies, celebrations, and journeys – with multiple monthly events, on-line video gatherings, materials, personal interest work groups, and the availability of private mentoring.
In the recent past, we have included wilderness adventures along the Pacific North Coast to places of magic and energy – with parallel adventures in the wilderness areas near you. There are optional journeys to Teotihuacan Mexico, and to Peru – to the Sacred Valley & Machu Picchu. With Covid continuing to influence travel, we'll have to see what we can do – but you can count on being active!
Everyone's financial circumstances are varied at this time – and I would rather have you participate than not – so participating in this program is by donation. And it's pay as you go. There will be a number of options for private energetic tune-ups and shamanic sessions, along with private mentoring available at an additional cost – but these are not required to benefit profoundly from our program.
Email me at francis@shamanzone.com and I'm happy to respond to any concerns or questions.
Thank you – Francis Rico