The Dreaming House Presents: Experience Peru – with Jorge Luis Delgado – Sunday August 15th, from 1:00pm to 4:00pm PDT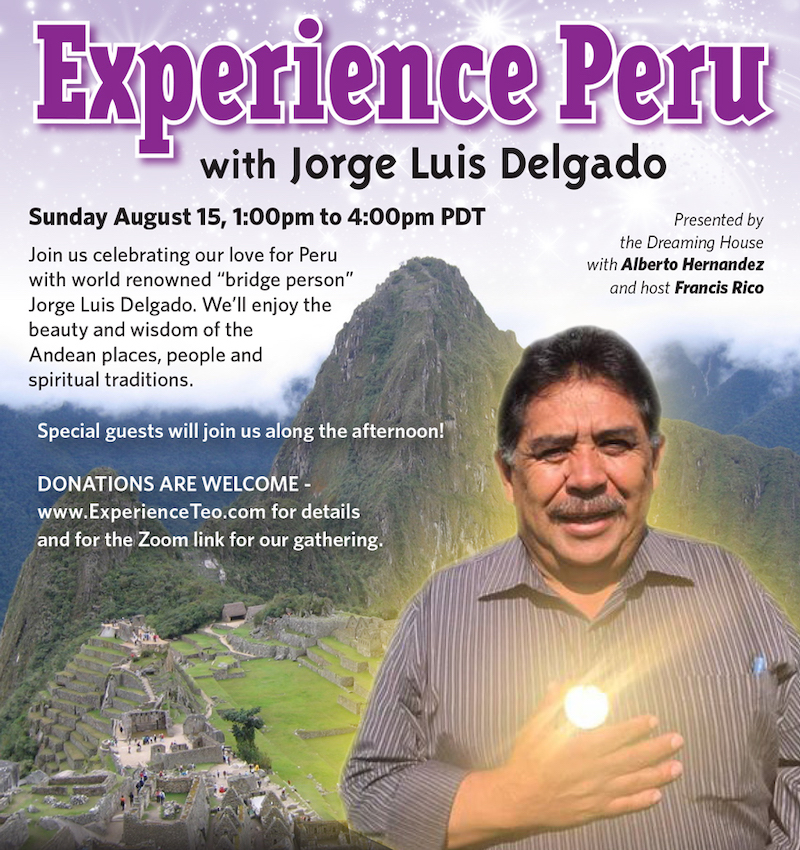 Alberto Hernandez and Francis Rico host this afternoon with our Peruvian chacaruna brother Jorge. "Chacaruna" means "bridge person" – someone who is a bridge to realms of beauty, wisdom and the indigenous cultures of Peru.
Joining this experience of the people, places, and traditions of Peru, along with Alberto and Francis:  Lee McCormick, HeatherAsh, Julianne Santini and John Mercede, and our tribe's flutist Russ Jones. And start planning now to join Francis in October 2022 – for Springtime in Peru – with Francis and Jorge.
Sunday August 15th, from 1:00pm to 4:00pm PDT
Use this link 5 minutes in advance of our meeting:
https://us02web.zoom.us/j/5760580392?pwd=QlhYMFhUbTBYblZDSXRnSWdaN1VEdz09
Meeting ID: 576 058 0392 – Pass code: 3380199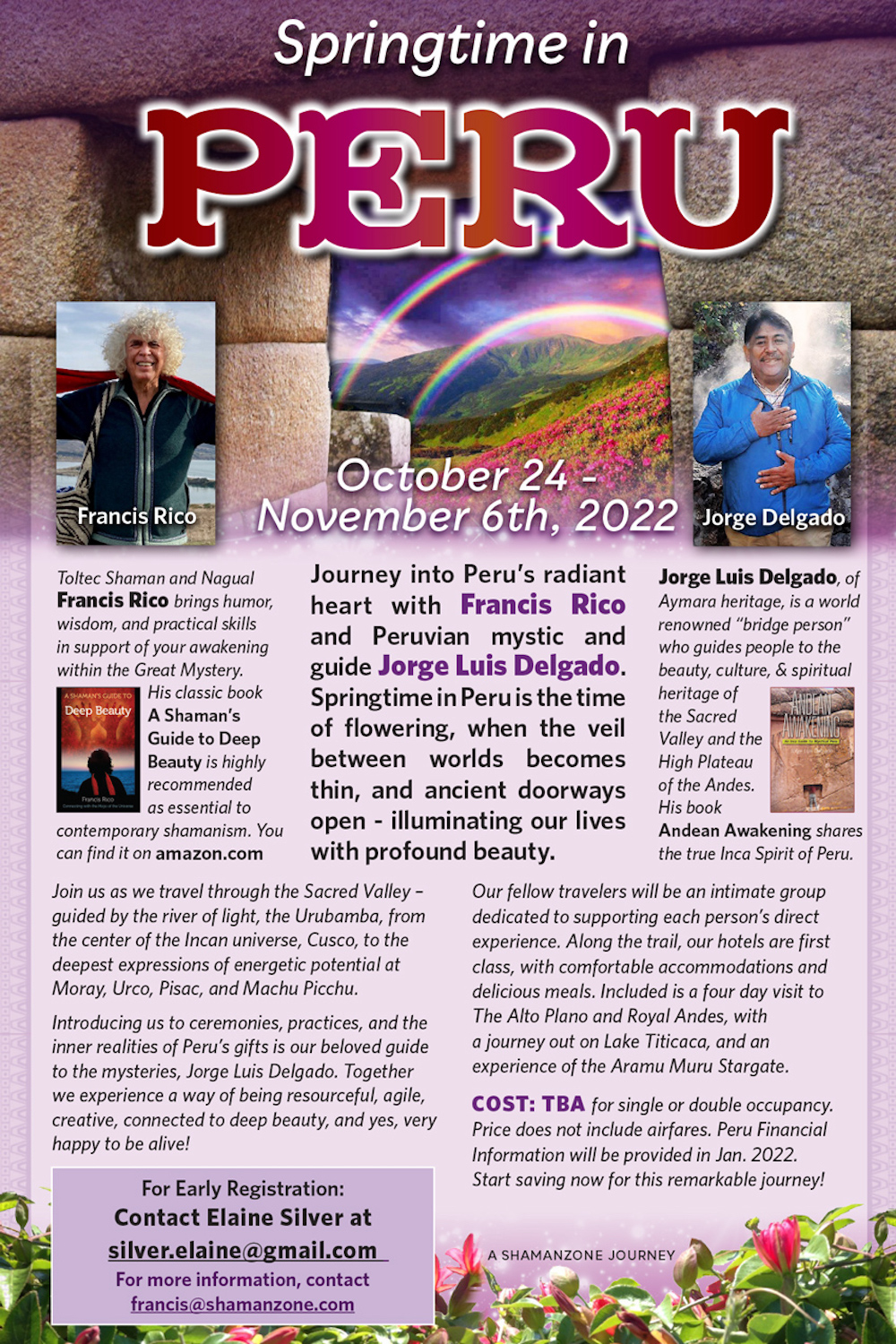 CLICK IMAGE TO SEE FLYER
---
Shamanic Journey to Teotihuacan
Wednesday, November 17th through Tuesday, November 23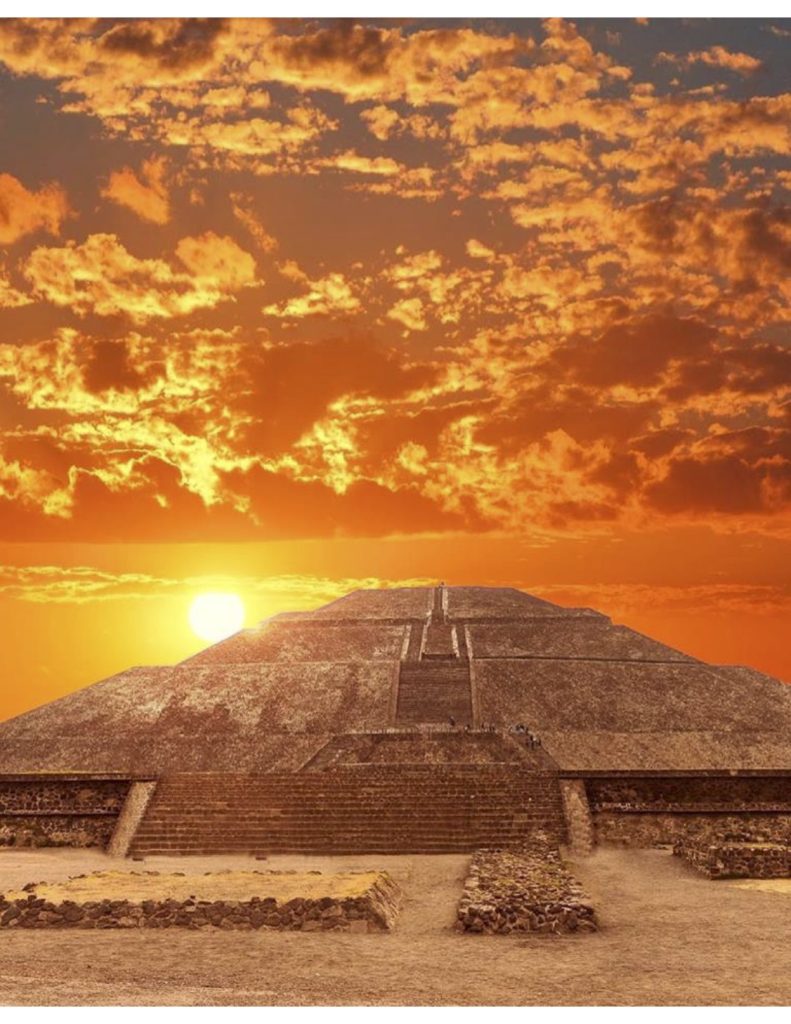 Sunrise in Teo! This is the great Pyramid of the Sun – where the rising sun of awareness invites you to step into the Great Mystery – and to find there a reawakening of the agile feral capacities that are at the center of your being – the "gift" of you!
This place – Teotihuacan – is an ancient University of Spirit. It's mysterious – it's vibrantly alive, and designed to support the emergence of your profound resourcefulness, your creative abilities, and your unique giftedness.
This journey is about you becoming an Artist of Spirit.
And the question is: can you take a week to totally re-vision, upgrade and re-energize your life?
Joining me on our journey is special guest teacher, healer, author and guide White Star – who I respect and love. She is deeply informed, with a keen sense of humor, and a natural ability to create and support community.
Journey cost is $1395 – that includes delicious meals, and private room lodging at our private estate – the Dreaming House. Also included is entry to the pyramids, our shuttle to and from the airport, and an optional day in Mexico City visiting the Basilica of Guadalupe and the world renowned Anthropological Museum.
Cost does not include your air fare, wait staff tips, alcoholic beverages, or extra activities like a herbal sweat lodge or private healing sessions with one of our indigenous healers.
To register, contact our journey coordinator, Elaine Silver – teoexperiencenow@gmail.com (or) 845-536-6848.
Elaine will help you arrange your travel plans to link with our pickup and return shuttles in Mexico City.
And she will have forms, and information for you on every aspect of our journey. We take care of all the details so that your experience is safe and worry free.
This journey is being kept intimately small – please make a $250 deposit to reserve your space. Contact me – francis@shamanzone.com to make payment by check or with PayPal (with a small fee), or Venmo: @FrancisRico.
We will confirm that our journey is on track by October 15th, 2021.  Deposits are 100% refundable.
---
Applying Shamanism – An invitation from Francis Rico: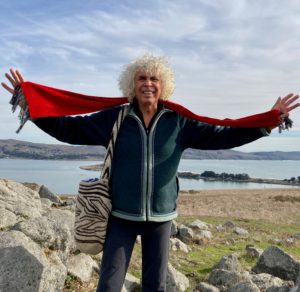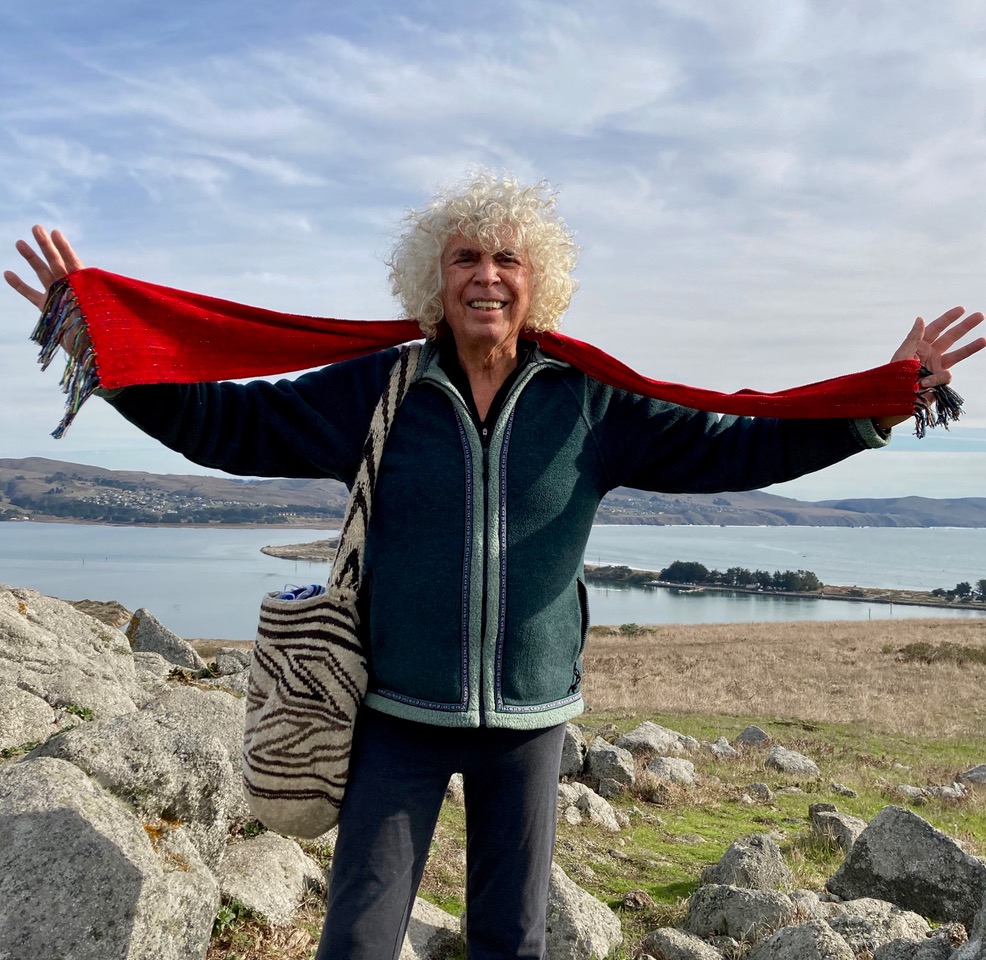 I invite you to step into the magical and miraculous life you were born to live – joining with a community of people who are dedicated to celebrating the gifts we each bring to life.
Yes, it's true – we're all experiencing the many complex and overlapping emergencies that face us and our families, friends, communities, and the world we share life with.
As a response, Applying Shamanism offers you powerful tools and resources for reshaping your life – directly benefiting you, and from there, making mutual benefit possible for the sake of life itself.
Our program condenses years of shamanic training and apprenticeship into a short 6 month course that offers you a creative realignment and orientation to "reality" that includes shamanic tools and resources, re-ignition of your innate radiance and resourceful feral intelligence, practical applications of flowing energy, healing practices, practical magic, living ceremonies, serious celebrations, and journeys.
Our focus is on incorporating shamanic wisdom and practices into our daily lives. We get creative with monthly on-line video gatherings, events, materials, regional groups when possible, online personal interest work groups, and optional private sessions.
Our schedules are busy – so, all classes and events are recorded for viewing at your convenience. All materials and resources are designed to support your progress – there are no deadlines or arbitrary rules – we're on shamanic time!
Monthly activities also include wilderness adventures – along the Pacific North Coast to places of magic and energy – with your parallel adventures in the wilderness nearest to you, wherever you live! There are additional optional journeys to Teotihuacan Mexico, and to the Sacred Valley, Machu Picchu, and Lake Titicaca in Peru – depending on how the global pandemic resolves.
In recognition of our financial times, program participation is by sliding scale monthly donation. If you feel called, please don't let finances deter you. I'd rather have you participate than not.
You're invited to bring your questions and concerns to our "Get Acquainted" preliminary Zoom meeting online on Monday January 11th at 4:00pm PST. Send me a note if you just want to check this out.
Registration is now open. Applying Shamanism officially begins with a Zoom video gathering on Sunday January 17th, at 11:00am, PST.
Contact me at francis@shamanzone.com.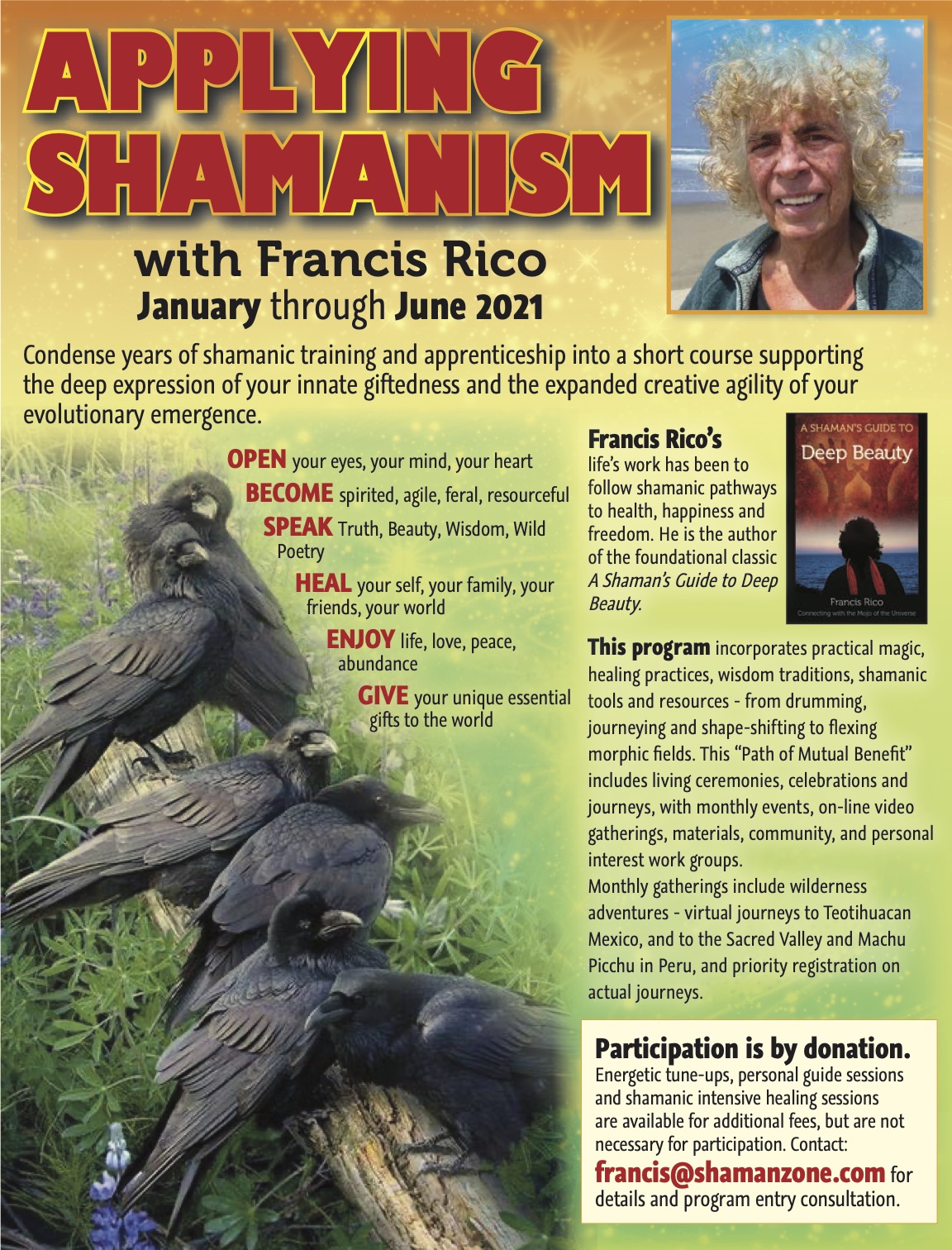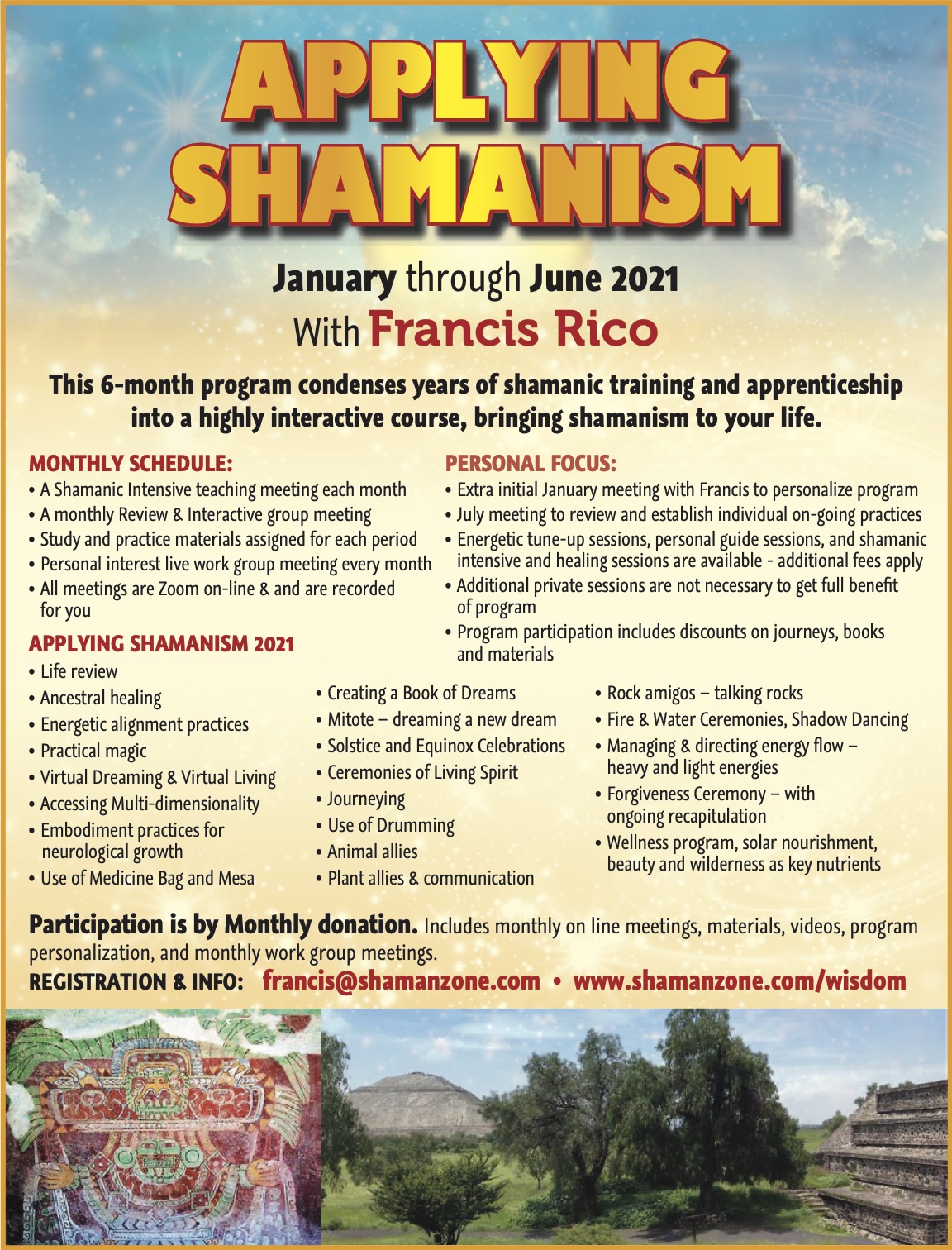 ---
Journeys to Mexico, Peru, Costa Rica, Hawaii and the Southwest.
Temporarily on hold pending recovery developments from the Covid19 shut-down. Francis will be offering a series of virtual tours and visits after the 2020 June Solstice. To participate contact him to be included! francis@shamanzone.com