Next Zoom meeting with Francis: Monday, January 25, 4:00pm
Use this link 5 minutes in advance of our meeting:
https://us02web.zoom.us/j/5760580392?pwd=QlhYMFhUbTBYblZDSXRnSWdaN1VEdz09
Meeting ID: 576 058 0392 – Passcode: 3380199
---
Next Meeting:
Wednesday December 30th at 4:00pm PST – Join in What's Arising with Abby Leach with a no-agenda agenda that includes silver-linings, poetry and shared intimacy – bring your observations, concerns, crazy ideas, your questions for others, and your beautiful self!. Here's the link – sign in 5 minutes early to get a good seat! Meeting ID: 576 058 0392 – Passcode: 3380199
---
Current Assignment: From our meeting on Monday December 14 – please view this Practical Magic Tune-Up with Francis, on preparation for the pre-Solstice meeting on Sunday the 20th. View: https://www.youtube.com/watch?v=XfTu2gRGQxY
And, from our meeting on Sunday November 22nd and 30th, here is our "set-up" for living ceremony – including your selection of an area to apply practical magic, and our practice – along with a sample living ceremony. Please read through this.  Then read again,  taking notes or drawing images for how your work will proceed. Then, apply practical magic!  Experiment – give it a try!
Current Activities: Take a look at our "Additional Materials" – and extra videos. A library of images will be added soon.
Click here for full outline of Current Assignments and Activities.
---
Practical Magic Schedule and Videos: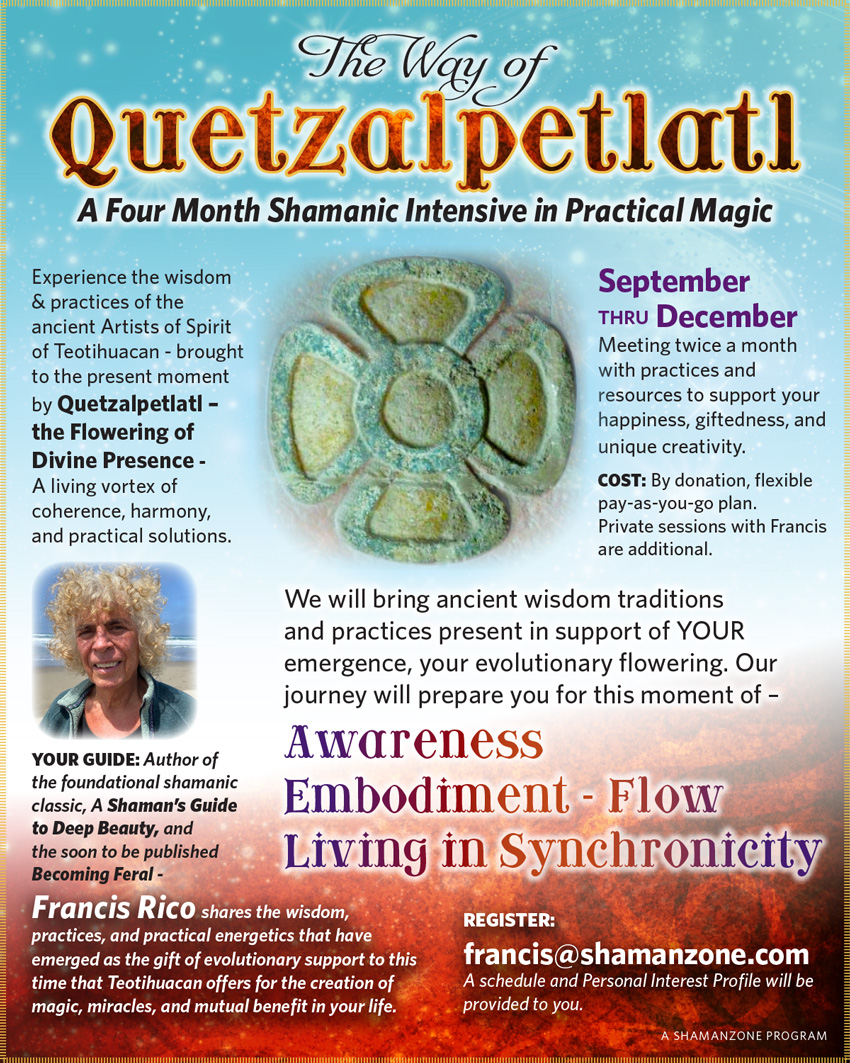 Introduction, September 13th – 90 minute gathering – orientation and initial practices. This first meeting is an Introduction and Orientation to The Way of Quetzalpetlatl – the path to bringing Practical Magic to your life. It explores the lineages and history of Teotihuacan that is the foundation for the practices – plus an overview of our work for the coming months. Also included in the last 15 minutes are practices to begin over the coming weeks – including creating an "Altar to synchronicity" that reflects a growing awareness of Creation's synchronistic offerings to our work in Practical Magic!
• Intro Video 1: https://www.youtube.com/watch?v=tqsWC_ZT3so
---
September 21st – 60 minute gathering preparation for the Equinox on September 22nd. A review of our initial meeting and practical applications  –  plus looking into the Equinox, and the incoming harmony of creation supporting our emergence into practical magic!
• Video 2: https://www.youtube.com/watch?v=xRs9XvwL-hs
---
September 27, 2020 – Practical Magic – 90 minute gathering– entering fields of awareness and multi-dimensionality. The second in our series of Sunday gatherings on the Way of Quetzalpetlatl – our intensive program in Practical Magic. Exploring awareness and how we are designed. The Tonal and Nagual are explored, along with the backstory on Chicacoatl-Quetzalpetlatl. This video includes a Direct Experience of the presence of Quetzalpetlatl at the end of the video.
• Video 3: https://www.youtube.com/watch?v=O39XumcQp-c
---
October 1st, 2020 – Abby Leach hosted a What's Arising, What's Emerging, What's Happening, & What's UP! One hour group gathering conversation. Along with people's concerns for the bumpy ride presently happening in our lives and our society, Abby included three poems: The Last Good Days by Lynn Ungar, What Kind of Times are These by Adrienne Rich, and Willing by Rosemary Wahtola Trommer.
• Video 4: https://www.youtube.com/watch?v=CTi2-cPsLjY
---
October 6th, 2020 – A review and exploration of practical energetics. We explore "protection" and how we have invested our energy – this is practical energetic. Plus a visit into black light – the Black Madonna, our alignment with time as a way to address fear, and our Altars of Synchronicity.
• Video 5: https://www.youtube.com/watch?v=ZYYynpYkzYs
---
October 11th, Practical Magic – our lineage, our practices – Our lineage is a song – a morphic resonance that is fresh and new, here in the present moment, bringing us the resources and the ability to emerge from the trance of damage and despair into the radiance of being the gifts that each of us are – bringing benefit to ourselves and to all of life.
• Video 6: https://www.youtube.com/watch?v=jwUzdpkoDlE
---
October 19 – Practical Magic – The Path Opens – Stepping again into the vibrant vortex of the Way of Quetzalpetlatl – the flower is you, and the gates of your perception open in the present moment – in a refreshing of both the message and the effort we can bring to supporting our emergence into the realm of magic and miracles. A visit from Quetzalpetlatl – our Chicacoatl – is possible whenever you watch this, because we also exist outside of linear time. Enjoy!
• Video 7: https://www.youtube.com/watch?v=sLLZ5IUSj0s&t=311s
---
Oct. 25, 2020 – Practical Magic – Artists of Spirit – We create "reality." From how we're assembled to how we can move into alignment with the flows of inner, local, global, galactic, cosmic and Vast energies – there is a path from the lock down of egoic objectification of our selves to creative resourceful and responsive flowing energy – our capacity to create magic and miracles.
• Video 8: https://www.youtube.com/watch?v=wugBvNQ8jL8
---
Oct. 27, 2020 – Practical Magic – making magic with the Mobius strip – with Elaine Silver – Who knew that making a mysterious magical object, one that can't possible exist, could be so much fun! This video will guide you into the mystery, and into the deep field of information that exists beyond the reach of our minds. Real magic, with Elaine Silver, a true lover of the mysterious undefinable, ineffable and genuinely expansive possibilities that we can create and hold in our hands.
• Video 9: https://www.youtube.com/watch?v=EPTJ8jJrP4s
---
November 2nd, 2020 – Practical Magic – essential practices! – Here are the practices that open the gates of perception – bringing us into synchronicity with the magic that is the gift of our Being here now. There will be a practice that resonates with you – and this is the Way of Questzalpetlatl – the alignment ceremony at the end is worth your time…it is a blessing.
• Video 10: https://www.youtube.com/watch?v=M5JONSqEeLA
---
November 8, 2020 – Practical Magic – Direct Experience of magic – We're putting our practices into play, and have created a beautiful morphic resonance field of connectivity, supported by Tonanzin and Chicacoatl – and from this we step into awareness, sharing the direct experience of personal, global, and galactic magic – our capacity to bless ourselves and all of life at the same time – creating mutual benefit – the Way of Quetzalpetlatl.
• Video 11: https://www.youtube.com/watch?v=b-DqqblMUzI
---
November 16 – Practical Magic – opening the doors of perception – What started out to be a review and revisiting our past work got turned on it's ear, and became an insistent call from Chicacoatl herself to allow the barriers to our experience of ourselves as light based beings to dissolve — a process of recovering our innate multi-dimensionality, and our capacity for creating beneficial outcome in our lives – and the lives of our family, friends, and communities… this is deep, and experiential. Be ready for things to shift!

• Video 12: https://www.youtube.com/watch?v=p_4-t9x5D7I
---
November 19th, 2020 – Abby Leach Hosts "What's Up" – Abby brings poetry and a no-agenda agenda to these gatherings where everything is open, welcomed, invited – and we find silver linings and opportunities everywhere we look. This video is especially sweet for those who attended – and if that is NOT you, you're welcome to check it out, and join Abby for the next couple of "What's Up!" gatherings before year's end.
Video 13: https://www.youtube.com/watch?v=Kfh2rnamk8A
---
November 22, 2020 – Applications of Practical Magic – Now we're getting to the path to creating magical outcomes in our lives, and the lives of those we love and care about. this is a start: creating coherent and harmonized energy within ourselves and directing it towards mutual benefit – practical energetics – there is a deep dive into fluid agility – using something directly relevant to your life… Monday the 16th and Sunday the 22 are a set – be sure to watch them both.
Video 14: https://www.youtube.com/watch?v=HIiltq_l76Y
---
November 30 – Applying Magic – This review of the foundation and methods of practical magic is also a deep dive into the formation of harmony and coherence within – that allows us to create beneficial outcomes for ourselves and others…this is a video to include – along with an interactive segment, the concluding simple ceremony goes to the core of illuminating the present moment – try it!
Video 15: https://www.youtube.com/watch?v=nYsxhtO5i4I
---
December 6th – Practical Magic – Synchronicity and Synergy – Synchronicity and synergy go together like pedaling and steering a bike – you've got to do both if you want to get a move on! We look into the solstice, Schumann's Resonance, comparative religions – and settle on what it is we do to limit ourselves! Find that, and soon you are pedaling, and steering – and we close with a living ceremony that can be a model for practice heading into the solstice of December 2020.
Video 16: https://www.youtube.com/watch?v=lXCkr1CqEPE
---
December 9th – QiGong with Jen Freeman – This simple half hour energetic tune-up will bring increased energy, smooth flowing agility, and calm centered harmony into your life. We do this every morning when we visit the Dreaming House and Teotihuacan – enjoy – and make this a morning or daily habit!
Video 17: https://www.youtube.com/watch?v=A7IeD8BKmkY
---
December 12th – Celebration of Our Lady of Guadalupe – Tonanzin – On this day, of Her appearance as radiant being, Francis visits the well known story of Her intercession, but also tells the deeper indigenous story – the story of prayers being answered that offers us blessings and miracles even today – when just like in 1531 we live in a world with a plague, and with multiple emergencies facing us. This hour tells the inside story, and there is a blessing prayer at the conclusion that you will enjoy, and will see mysterious benefit come to your life.
Video 18: https://www.youtube.com/watch?v=07IHmUZuuWo
---
December 14th, 2020 – Practical Magic Tune-Up with Francis – We're heading into the Solstice – and the opportunity for Living Ceremony to create the magical blessing that our world is praying for – a change of course, and emerging destiny of kindness, compassion, wellness, and most importantly CELEBRATION! This meeting will tune YOU up – and the blessing – initiation – invitation and prayer for us all at the end is a blessing for you too!
Video 19: https://www.youtube.com/watch?v=XfTu2gRGQxY
---
December 16th – Step into flow – with Barbara Novak – "Step into flow" with Barbara Novak – to explore flow, be flow, invite flow, integrate flow, and be inspired. As flow provides, Barbara was inspired to prepare a beautiful and inspiring program, and she leans into fluidity and agility – this is beautiful and inspiring! Plus tools and resources – you'll want to watch it twice!
Video 20: https://www.youtube.com/watch?v=709y06D4ptc
---
December 20th – Practical Magic on the Solstice – The ancient mystery schools revealed the reality of our place in our solar system – and Practical Magic steps it up to a vision of our place in our Galaxy and in the Vast Self that is Totality. This gathering explores the big picture of the energy waves emanating from the great central Presence at the center of our galaxy that are profoundly influencing life on Earth. Our practice of moving into synchronicity with this flow of life affirming expansive energy is called "Living Ceremony" – and we share the many factors that go into how to create living ceremony – especially in this moment of visionary potential – the Solstice of December 21st 2020. We include an experience of living ceremony that is a blessing to you!
Video 21: https://www.youtube.com/watch?v=MGpAiQhKDc8
---
Monday December 28, Practical Magic – you are a magical being! – The Solstice energy is still present in a big way – and in this ongoing glow of energetic waves lifting us to great heights of visioning, and great depths of compassion for embodiment, we explore the reality of "reality" as a dream, and how to create a viable intention that isn't the pursuit of an elusive outcome, but rather is a declaration of what IS – the emerging gift from within each of us. This is the Path of Quetzalpetlatl – the not so mysterious Mystery that all of life cares for life, is loving, and in reciprocity with all of life. We also talk about the Solstice – our experiences – and conclude with a powerful blessing of YES! for life, for our own lives, and for the path ahead.
Video 22: https://www.youtube.com/watch?v=KsmcPz6lCd4
---
Resources: Books. Supplemental Videos. Images. More.
---
Donation Information:
Paypal at francis@shamanzone.com or Venmo at FrancisHayhurst (FrancisRico)
or, send a check payable to shamanzone to: Shamanzone, 970 Phillips Ave, Petaluma, CA 94952
---