Also – coming August 24 – 26 – A Journey into Eternity – a journey into Montana's magical majestic Bear Tooth Mountains.
DOWNLOAD FLYER…
---

Experience Toltec Dreaming – a Mitote – Sat. & Sun. Aug 11 & 12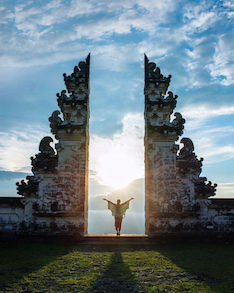 Have you ever had an experience of "normal reality" that was so magical that you thought you were dreaming?
Your first reaction – you pinch yourself – you're awake! No, you weren't smoking dope! Nope, you didn't drop acid! No – no ayahuasca involved!
Quite simply, a pure magical radiance came over you -and you experienced a vision of the sparkling intelligence and deep beauty of being!
This experience was well known in the ancient Toltec traditions of central Mexico – the home of the great ancient University of Spirit – Teotihuacan – a place of mysterious pyramids, temples and plazas that is an active field of transformation and evolutionary support even today.
In the old traditions, a special all night dreaming practice evolved to support this expansive experience of the ineffable – this practice is called the "Mitote."
I invite you to join me for an experience of the "Mitote" – we start with an afternoon workshop on Saturday, August 11 that will prepare you for the all-night dreaming ceremony, concluding on Sunday August 12 at about 1:00 PM.
The Mitote takes one into a high state of awareness and vision – without the use of plant medicines or substances. And it's also a totally enjoyable community camp-out (in tents, under the stars or in one of the few beds available), with a delicious shared pot luck dinner and hearty catered breakfast.
O.K. it's true: normal reality seems very solid. And it seems almost impossible to imagine that our tangible, solid, normal reality could possibly be constructed of a moment by moment flow of energy.
Our Toltec Workshop and night time Mitote Dreaming Practice offers you opportunities to peak behind the curtain of "normal" reality into this flow – into the creative center of being that is the up-welling source of all that you manifest.
In our ceremony, we look into the place where we each create the shape, texture, and experiences of our lives – and we gently awaken to the gifts that we have been given, and to the gifts that we are here to give.
We will be sending out directions and all of the necessary details to prepare for this special weekend – it's one of our favorite events of the year, and there is nothing like it for creating a refreshed and rejuvenated vision of life.
I invite you to join us. Questions? Contact me at francis@shamanzone.com
Registration is $150 per person and $250 for couples.
(If you have financial concerns, please contact us!)
You can register by contacting Elaine Silver at silver.elaine@gmail.com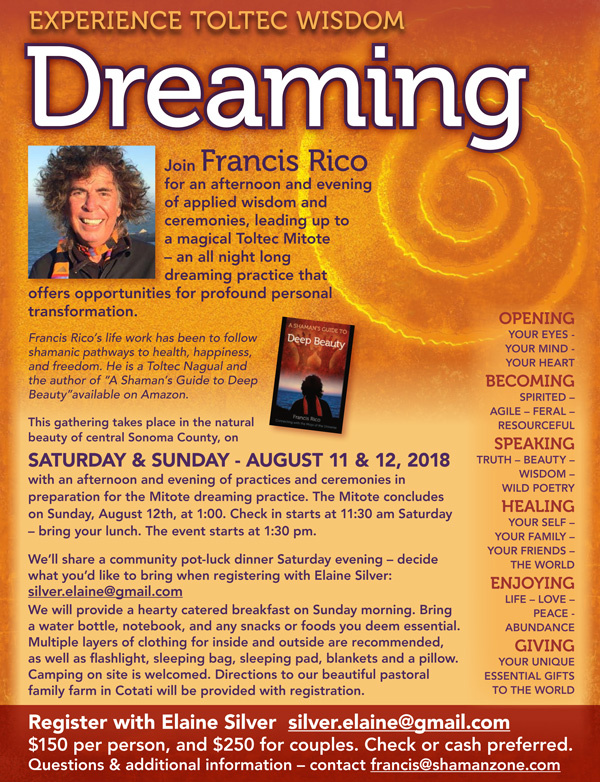 ---